Kurt Dreyer Lucerne
Born 1947 in Burgdorf / Switzerland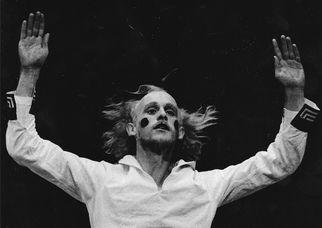 1966-70 Classical and modern dance with Philippe Dahlmann, Asa Lanova, Serge Golovine in Lausanne and Geneva
1970-74 London School of Contemporary Dance "The Place"
Graham / Ballet / Placement / Choreography / Jazz / T'ai Chi / Alexander Technique / Nikolaïs / Cunningham etc
Important teachers were
Robert Cohen, Bill Louther, Noemie Lapzeson, Nina Fonaroff, Flora Cushman, Anna Sokolov, Robert Solomon, Matt Mattox, May O'Donnel, Richard Alston, Pytt Geddes, P. E. Williams. Fundamentally influenced by Carolyn Carlson.
"The Place" Choreography Scholarship
awarded 1972 and employed at the London School of Contemporary Dance as choreographic assistant and teacher for child classes
Back in Switzerland by 1974 started the search for new forms in movement pedagogy and development of a personal teaching method
Photo Eleni Leoussi

Since 1967 performances in Opera, Ballet, Film and on TV
Performances in London in The Place-Workshops / London Contemporary Experimental Group / Tammy Mc Lorgs Alpha Group / Solomon Dance Co / Carolyn Carlson Dance Co
Founder member of Mobiles Modern Dance Co London - several programs with performances throughout England and on the Edinburgh Festival
1974 back in Switzerland Geneviève Fallet Dance Co
Founder of Dance Team / Founder of Caramel move - many programs on tour throughout Switzerland
Performances as soloist, in duets and with groups on stages, in open spaces, churches, galleries, museums and on TV - very often in closed exchange with visual artists and musicians
Photo Eleni Leoussi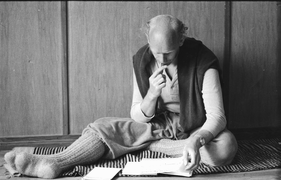 From 1968 till now results a long list of pieces of different genres from dance, art performance, actionism, theatre, opera, musical, film, video up to scenic music performances
Excerpt of the list
2016  Gent/Belgium 
"Diabelli Machines #5" – staging of a scenic concert of Ensemble Interface; Dir. Paulo De Assis; Orpheus Institute Ghent
2015   Luzern/Lucerne
"Carmina Burana in Szene" – staging of the chorus work by Carl Orff with break dancers and Haendel Choir Lucerne, Dir. Pirmin Lang
2015   Genf/Geneva  
"Les enfants de la nuit" – spectacle multimedia avec 5 jeunes chorégraphes et 5 compositeurs – bande sonore Santiago Diez Fischer
2014   Frankfurt/Wien 
"Limbo Lander" – stage of the audio-visual performance by Jagoda Szmytka played by Ensemble Interface
2010   Biel-Bienne       
"Quatuor pour la fin du temps" – Duet with Amelia Mauderli - M: Messiaen, Bach by L. Zürcher/L. Vorgelsang/B. Sieber/S.Okitsu
2007   Bern                 
"Der Traum" – Staging of the opera by Michael Haydn – Ensemble HKB and soloists, Dir. Matthias Kuhn
2001   Biel-Bienne       
"Desert Piece" - Dance piece - M: Steve Reich: Desert Music
2001   Ettiswil LU         
"Acis and Galathea" – Staging of the opera by Haendel; Haendel Choir, Soloists and dancers, Orch. Capriccio Basel, Dir. Pirmin Lang
2001   Film                 
"Rhythmus ist Leben" - A 74 min documentary about Rythmics and the formation in Biel directed and cut by Kurt Dreyer
1998   Biel-Bienne       
"Welke Tage" - Dance piece - M: Piazzolla: Five Tango Sensations     
1994   Biel-Bienne       
"Siamese" - Dance piece after "Apollon musagète" by Balanchine - M: Stravinsky: Concerto in D
1990   Luzern/Lucerne           
"Target" - All men dance piece after Jasper Jones at the Kongresshaus Lucerne – M and Dir. Urban Mäder
1985   Bern                 
"Trommeltanz" - Dance theatre in roman arenas - M: Medici/ Baumgartner/ Doran/Weibel/Koch
1985   Luzern/Lucerne
"Die Bacchantinnen" – Incidental dances in the play of Euripides at the Stadttheater Luzern, Regie Jean-Paul Anderhub
1980   Bern                 
"d'Wägwärfdame"– Staging of the play by Dario Fo at the Zähringer Theater, M + Int. Morelli/Pollak/Müller/Jundt/Messerli  
1973   London            
"Glagolitic Mass" - Dance piece at the Royal Albert Hall - M: Janacek, Royal Philharmonic Orchestra, Dir. Meredith Davies
1971   London            
"Brecknocks"- Dance theatre - M: Xenakis – from 1972 performed by London Contemporary Dance Theatre 
Photo Max Kellenberger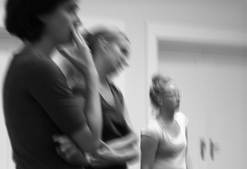 The studies in London extended to T'ai Chi and Alexander Technique opened up, in opposition to regular dance techniques, new approaches and helped to find personal ways to bring the body to a balanced dancing, coupled with a direct and honest movement communication.
Teaching since 1984 at the Rhythmic Department of different Musical High Schools invited to go in depth into questions of structure and principles of body functions, movement and scenic understanding: Anatomy / Movement awareness and body structuring / Placement / Rhythmical bodywork / Dance technique / Improvisation / Dance composition / Scenic structure / Choreography
Teaching at the Opera Studio Biel and the Department of Théâtre Musical opened up the possibility to work in depth with singers and instrumentalists: Scenic body work / Interaction on stage / Scenic presence
A great number of intensive courses, workshops and lectures were held in all kind of situations from scouts to University Professors throughout Europe as well as in Hong Kong and Taiwan
Through involving these numerous influences arose a personal motion technique that is especially suited for instrumentalists and singers.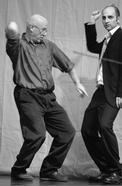 The debate with young choreographers, stage directors, librettists, composers or interpreters about their work demands a look through their eyes and an understanding of their contents and aims. The exchange about structure, movement analysis, narrative moment and dramaturgy is also extremely rewarding for the teacher.
Many students have passed this kind of debate during their scenic diploma works as a soloist, as a group choreographer, as a stage director for children operas or as a member in co-productions. This, in different schools, on the level of Bachelor as well as Master:
Rhythmikseminar der Musikhochschule Luzern (1983 – 2002)
Studienbereich Rhythmik, Musik und Bewegung, Hochschule der Künste Bern HKB, BA + MA-Diplom (1984 – 2012)
Musik und Bewegung der Musikakademie Basel, BA-Diplom (2013-14)
Institut Jaques Dalcroze, Haute Ecole de Musique Genève HEM, MA-Diplom (2014-15)
Art Performance der Hochschule Luzern Musik HSLU, MA-Diplom (2014)
Young artists graduated from one of these schools and active in scenic work:
Franziska Meyer / Amelia Mauderli / May Früh / Andreas Pfiffner / Simon Baumann / Denise Scheurmann / Johanna Claus / Elischewa Dreyfus / Luisa Funk / Tabea Haas / Isabelle Röthlisberger / Bettina Danielle Berger / Ensemble Interface
Regelmässige Beratungen folgender Ensembles:
Frankfurt     Ensemble Interface mit Bettina Berger, Flöten; Anna D'Errico, Klavier; Andrea Nagy, Klarinetten; Agnieszka Koprowska-   Born, Schlagzeug;  
                     Christoph Mathias, Cello und Gäste    http://www.ensembleinterface.com/de/
Bern             The Piglettes mit Amelia Mauderli, Isabelle Röthlisberger und Johanna Claus, Gesang, Klavier, Kontrabass und zahlreiche andere Instrumente
                      https://www.facebook.com/The-Piglettes-1413870005574623/?fref=ts
Bern              Kollektiv Haas & Mann mit Tabea Haas, Luisa Funk, Denise Schürmann, Helena Haldemann, Isabelle Röthlisberger, Janine Hauswirth
                      https://www.facebook.com/HaasMann-325835590932676/info/?tab=page_info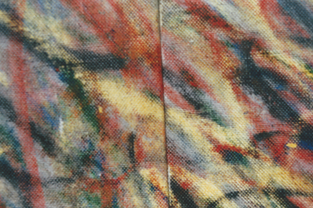 During several years no stage pieces were realized and creativity was shifted in other fields. In this period the emphasis was on scribbling, scrawling, writing, drawing, – repetition after repetition, a process alike to dance called exercise – until the process was directed by a musical component. It arose a great number of works on paper, canvas and many different materials. Though the choice of the image carrier changed, the work material stayed the same: Wax and pastel crayons. The product can be divided in different working periods and some exhibitions did show the results.
Robert Rauschenberg has created costumes and stage sets for several works by choreographer Paul Taylor. 1954 he chose gas filled balloons for "Jack and the beanstalk". After the show, in the backyard, they let the balloons fly and Taylor said to Rauschenberg "…look how ephemeral is dance!"
Through artwork the process of creating was turned to new dimensions – suddenly the product was not just passed living only in the memory of some spectators, but could be seen and discussed even months or years later.    

Just arrived in London being entrusted with the direction of a "Place Workshop", shaped the young dancer for the life. In the following decades many events were organized:
Tours with companies and schools / Courses with guest teachers from all over the world / Festivals / Large and small events of many different kind
These organizational skills lead from 2002 – 2012 to a job as
Head of the Rhythmic Department Biel-Bienne at the University of the Arts Bern UAB